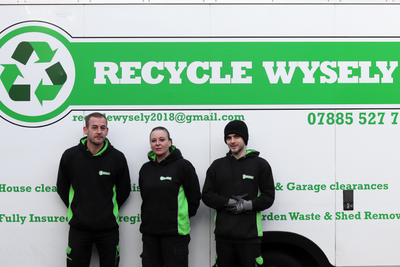 Here at Recycle Wysely, we are dedicated to reducing the amount of waste that ends up in landfills. We pledge to send 0% of what we uplift to landfill and to recycle everything we can. Our aim is to create a better environment for the people and businesses of Scotland. We want to deliver a smart service that redirects refuse away from landfill and reduces rubbish by using the latest recycling solutions.
We provide a variety of waste collection services for businesses and households such as:
One-off single item collections
Kerbside recycling contracts
Full house and garden clearances
Commercial waste disposal for builders, factories and developers.
We provide affordable, reliable and responsible solutions for all your waste disposal needs.
We're not just committed to a cleaner, greener environment, but also a sustainable one - and that goes for our policies on employment too. We provide local jobs for local people, giving them a sense of achievement, job satisfaction and the knowledge that they're playing an integral part in the future of Scotland.